Family Licenses
Become - BETTER, STRONGER, HEALTHIER!
As you learn and apply accurate knowledge about the TOP SIX NUTRIENTS AND EXERCISE.
The program is designed to be completed in 8-weeks & then goes into a perpetual maintenance phase or you can go at your own pace.
Choose the license you want to purchase or gift.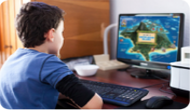 Includes full access to Knowledge Island® for 1 person (additional licenses can be added).
Product Description
Add to Cart
WHAT IS INCLUDED
Individual Accounts
1
Automatic Pre/Post Testing
Daily Food & Exercise Journal
Weekly Reports
Interactive Coaching Buddy
Nutrient Calculator
Drag & Drop Workouts
OTU Vision
Tone-Up Talk
Certificate
Catch A Wave Game Single Player
Catch A Wave Game Multiplayer
Student Dashboard
Teacher Accounts
Teacher Certificate
Team Challenge
Go at Your Own Pace
3 months $25
6 months $30
9 months $40
12 months $45
Each additional student from $25
Don't hesitate to contact our support team if you have any questions!
info@operationtoneup.com 602.997.8564 OTU Gear
Go Back